Jan 15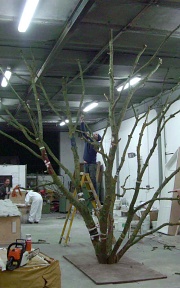 Fabrication of the Alchemical Tree sculpture, OPS (Other Peoples Sculpture).
Simon Periton, Site-wide Artist, ROQ Public Art Programme, Alchemical Tree sculpture commission
Fabrication of Simon Periton's Alchemical Tree sculpture has now commenced, the ash tree has been sourced and the casting process is in progress. As part of the public art engagement programme, Simon will be leading a consultation event on Friday 23rd January 2015.
The ROQ Public Art Programme is curated by Modus Operandi.
Artist-led Consultation Event
Friday 23rd January 2015 1.30pm to 2.30pm
The Ryle Room, Radcliffe Humanities, ROQ, University of Oxford.
Simon Periton will be leading a consultation session on texts to be incorporated as scrolls into his Alchemical Tree sculpture commission. The work is currently being fabricated and will be installed in autumn 2015.
This event is an opportunity to learn more about the commission and discuss the current short-list of proposed texts. The session will also be an opportunity to suggest further texts for consideration.
All welcome. To register your place email:
by Tuesday 20th January 2015
please note there is limited capacity for this event
Sep 14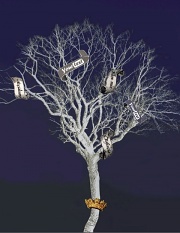 Alchemical Tree
Design for ROQ commission
Simon Periton
Artist led workshops this autumn
Modus Operandi will be running a programme of free art workshops in Oxford this autumn to complement Simon Periton's site-wide commission for the Radcliffe Observatory Quarter.
The workshops will provide new, exciting creative activities with the aim of engaging participants with the artist's commissioned works and the development of the ROQ site.
The programme spans a series of school workshops across Oxford, a workshop day for students from Ruskin School of Art and the Mathematical Institute and culminates on 24th and 25th October with a Free Family 'Big Draw' weekend of drop-in workshops.
The workshops are supported using public funding by the National Lottery through Arts Council England.
with generous support from the Pye Charitable Settlement.
and workshop materials supported by Faber-Castell.
www.stonemarketing.com/faber-castell-playing-learning
See more information link below.
I am delighted with this programme of free workshops being offered in the Mathematical Institute this October. The special magic that can be art should be available for everyone to enjoy. These exciting workshops will offer the participants an insight into some of the creative processes and mysteries enjoyed by artists for centuries and will help create a greater awareness of and engagement with my commission for the Radcliffe Observatory Quarter.
Simon Periton
Aug 14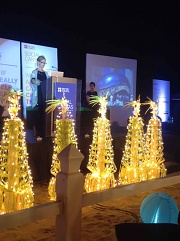 Vivien Lovell presenting the keynote paper at the Social Canvas Symposium in Colombo
Social Canvas: Public Art Initiative, Colombo, Sri Lanka
Vivien Lovell has just headed The British Council's public art initiative in Colombo, Sri Lanka, entitled 'Social Canvas'.
Lovell gave the keynote paper at the Symposium on 18th July, held on the beach in Colombo, which marked the start of a three-day workshop involving forty-five artists of various disciplines. Four teams of artists created speculative proposals for public art installations that addressed current social and environmental issues, focusing on four locations in Colombo. The British Council hosted a final evening of presentations by Lovell, Eranda Ginige, BC Head of Partnerships & Business Development and the four creative leaders of the artist teams, for potentially interested corporate representatives/sponsors.
Key members of this initiative are Shreela Ghosh, BC Head of Arts, South Asia, Katrina Schwartz, Curator, BC London, Eranda Ginige, BC Head of Partnerships & Business Development, Natalie Soysa, Head of Arts, BC Sri Lanka and Harriet Gardner, Acting Director, BC Sri Lanka.
Lovell also visited galleries, met with the Director and Co-curator of the Colombo Biennial, and made several visits with the BC to corporate clients. Finally, she visited several buildings and environments designed by the late architect Sir Geoffrey Bawa and visited the British High Commission.
Apr 14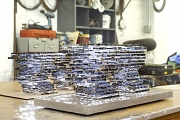 Maquette of Shimmy © Dan Weil
Alison Wilding's new commission at 10 Burlington Street
The Crown Estate and Exemplar have commissioned a permanent artwork for the interior reception area of its new development, 10 New Burlington Street, London W1, located along Regent Street.
Alison Wilding was appointed after her proposal for Shimmy was selected through an invited competition. The work is designed specifically for the interior reception area, responding to the proportions of the space and materials used in the interior.
Wilding is a renowned English sculptor who uses a variety of materials, often in combination. Nominated for the Turner Prize in 1992 and elected a Royal Academician in 1999. Her first major solo exhibition was held at the Serpentine Gallery, London in 1985. Her first international solo show 'Projects,' was held at the Museum of Modern Art, New York, in 1987.
A retrospective exhibition entitled 'Alison Wilding: Immersion – Sculpture from Ten Years,' was held at Tate Gallery, Liverpool in 1991. She has since exhibited extensively throughout the world in solo and group shows. Wilding studied at the Nottingham College of Art, the Ravensbourne College of Art and Design, and at the Royal College of Art in London.
Dec 13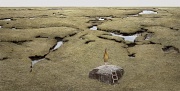 © Martina Lindqvist
The Absurdity of Greener Grass - bulding wrap, W5
Modus Operandi is delighted to announce the inauguration of an arresting new public artwork at New Burlington Street, W1. The Absurdity of Greener Grass, is by photographer Martina Lindqvist takes the form of a 30m by 15m building wrap. The launch of the wrap was celebrated this week by a reception in the Photographers' Gallery. Lindqvist is represented by the Gallery, where prints of her work are available for purchase.
The artwork has been commissioned by The Crown Estate and their development partner Exemplar, who were keen to offer this high profile opportunity to an emerging artist. Lindqvist is currently studying for her MA in Photography at the Royal College of Art in London, and this is her first work of art in the public realm.
The W5 South development scheme is part of the next exciting phase of Regent Street's ongoing regeneration, and Lindqvist's artwork will remain in place over the coming year whilst the building is under construction. The series of public artworks commissioned by The Crown Estate and Exemplar in the Regent Street area form a key part of their strategy for regeneration of the public realm.
Nov 13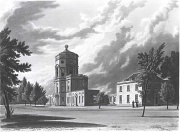 The Observatory from R. Ackermann, A History of the University of Oxford, 1814. Image courtesy Green Templeton College.
University of Oxford, Radcliffe Observatory Quarter, The Horologian
Join us for an unusual walking tour through the University of Oxford's Radcliffe Observatory Quarter with artist Mark Wayman. Conceived as 'an experiment in the measurement of time', his tour, The Horologian, will draw on the fabric, history and significance of the site to create a unique and site-generated performance.
The walking tour occurs in concert with the light installation piece Brighter Later, as part of the Radcliffe Observatory Quarter Public Art Programme Tracing Venus. Tours are free to the public on 23 November at 4.00pm and 6.00pm with spaces limited to 25 participants for each performance.
To reserve a place and receive more information please email rsvp@modusoperandi-art.com specifying your preferred time.