May 21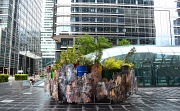 Temporary Retention Site for Atmospheric Particles
Image credit: Rachael Champion
NEW PUBLIC ARTWORK BY RACHAEL CHAMPION
Rachael Champion's Temporary Retention Site for Atmospheric Particles was a recent commission for Berkeley Square's recently pedestrianised area to the north-west of the Square and was on site for six months from October 2020 to April 2021. It has now been relocated to Montgomery Square, Canary Wharf, E14 until 2023.
The sculpture was inspired by the remarkable London Plane trees of Berkeley Square. Layered bark-shaped panels with printed imagery surrounded a series of brightly coloured metal drums, each containing an array of bioremediating plant life known for its ability to reduce air pollution in urban environments. The metal drum containers referred to the petrochemical industry, a conceptual link to London's poor air quality. In the sculpture they were repurposed as vessels to support biodiversity and a cleaner environment.
The artist Rachael Champion comments:
"Temporary Retention Site for Atmospheric Particles addresses the issue of air pollution within our cities. Located adjacent to Berkeley Square where some of the oldest and most majestic examples of the London Plane tree can be found, this artwork looks to other species for inspiration and collaboration to improve the quality of the air we breathe."
The installation was curated by Modus Operandi and commissioned by Grosvenor Britain & Ireland.
Apr 21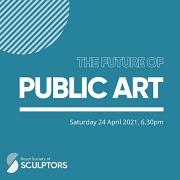 Panel session 'The Future of Public Art'
Panel session 'The Future of Public Art' organised by the Royal Society of Sculptors April 2021
Panel members: Jon Sharples (Chair), Vivien Lovell, Sinta Tantra, Bianca Bova, Clare Burnett (President, RSS)
The Future of Public Art panel session
Apr 21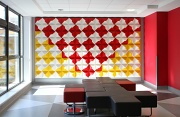 Rana Begum, Surbiton Health Centre, 2013
© Rana Begum
Artlyst interview with Vivien Lovell
Artlyst interview: Vivien Lovell responds to Revd Jonathan Evens' questions about curating art in the public realm. See Artlyst interview